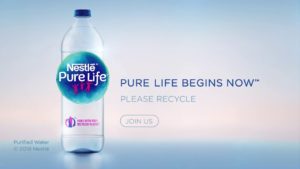 The new Nestlé® Pure Life® bottles feature a modern, premium design, along with the new branding launched last year under the banner of "Pure Life Begins Now" that aims to elevate the importance of quality water in people's lives. The launch of a bottle made entirely from recycled plastic reinforces the brand's leadership and purpose: to inspire a healthier and brighter future that starts with water.
The Nestlé® Pure Life® 700mL bottle will be featured in a short video highlighting its use of recycled materials, and encouraging consumers to recycle the bottle so that it can be made into a new one. The video can be found on the brand's social media channels and website. The product can be purchased at grocery, mass, and convenience stores across the country.
Since 2005, the organization has decreased the measure of PET plastic in Nestlé® Pure Life® half-liter containers by 40 percent. Today, the presentation of Nestlé® Pure Life® rPET containers to buyers across the nation, supplements our endeavors to move and make it less demanding for shoppers to reuse, expanding on a year ago's turn to start including How2Recycle data the marks of our major U.S. filtered water brands. These names incorporate an update for customers to purge the jug and supplant the top on the container before reusing.
Read more at: https://www.nestle-watersna.com/en/nestle-water-news/pressreleases/nestle-pure-life-launches-new-bottle-made-from-100-recycled-plastic